WALTER HARRISON SCHOLARSHIP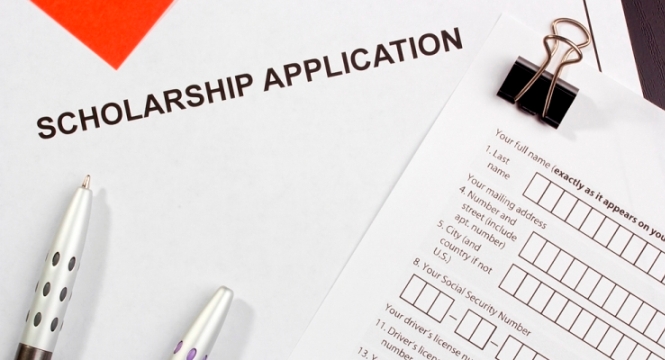 LOCAL STUDENT EARNS $1,000 SCHOLARSHIP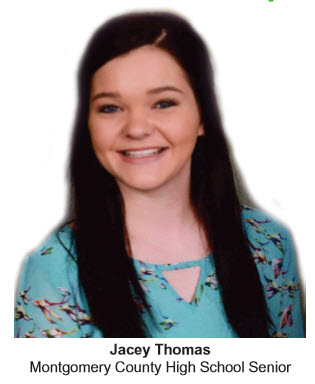 A Montgomery County High School senior is now the deserving owner of a $1,000 college scholarship. After careful review of her academic achievements, extracurricular activities and community service, Jacey Thomas is one of 10 students statewide who will receive a Walter Harrison Scholarship sponsored by the electric co-ops in Georgia, including Altamaha EMC.

Earlier this year, Jacey competed among 76 other students who applied for the scholarship which provides $1,000 to help offset rising costs associated with obtaining a two or four-year college degree.

"The competition was intense," says Tammye Vaughn, Manager of Marketing and Communications with Altamaha EMC. "Keep in mind Jacey competed alongside some of the most ambitious and brightest students in the state. Making it to the winners circle is an achievement in and of itself."

The winners were required to submit brief essays explaining why they would be good candidates for the scholarship and outlining their education and career goals and any special circumstances to be considered.

A statewide panel of judges considered a number of factors such as academic excellence (judged by performance, grade point average, SAT scores and scholastic honors), extracurricular activities such as participation in student clubs and organizations, and a commitment to serve others. Family income and recommendation letters from academic counselors and teachers were considered as well. The scholarship can be applied to any accredited two or four-year university, college or vocational-technical school in Georgia.

Jacey is the daughter of Julie Adams of Mount Vernon. She will attend Georgia Southern University to earn a bachelor's degree with a triple major-mathematics, history and Spanish. After graduation, she plans to attend medical school and open her own practice serving rural Georgia.

According to her teachers, Jacey not only excels in academics but also demonstrates leadership in numerous school clubs, cheerleading and community endeavors. She is a member of the National FFA, Beta Club, Toombs- Montgomery Chamber of Commerce Youth Leadership Board, and has held offices in the FFA and 4-H organizations as well.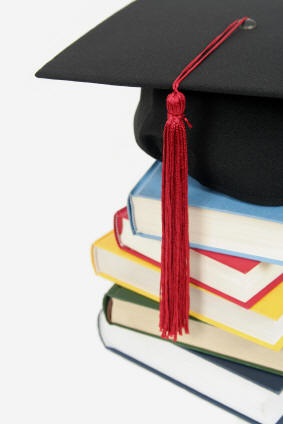 Jacey has earned a number of honors including Most Outstanding Student in Chemistry and Advanced Algebra, Scholar Athlete of the Year, Georgia Certificate of Merit, Honor Roll with Excellence, STAR student, DAR Good Citizen Award, and Most Likely to Succeed, to name a few. Jacey was one of three students representing Altamaha EMC on the 2016 Washington Youth Tour.

Her endeavors benefit her community as well. She has participated in campus beautification projects at Brewton Parker College and volunteered with the American Red Cross and 4-H for numerous service projects to benefit the local women and children's shelter, senior citizens and children in need.

The scholarship is named in honor of Walter Harrison, a pioneer in the rural electricity movement and a leader at the local, state and national levels in electric cooperative programs. It is funded by Georgia's 41 electric cooperatives, including Altamaha EMC, the National Rural Electric Cooperative Association and the Georgia Rural Electric Supply Corp. Since 1987, approximately $191,000 has been awarded to students through the Walter Harrison Scholarship fund.

The Scholarship was created in 1985 by the board of directors of Georgia EMC, a trade association representing the 41 electric cooperatives in Georgia, Oglethorpe Power Corp., Georgia Transmission Corp. and Georgia System Operations Corp.
WALTER HARRISON SCHOLARSHIP FUND CRITERIA
The recipient's primary residence must be the household of an Altamaha EMC member or Altamaha EMC employee. All Altamaha EMC members and employees are also eligible.
The recipient must be enrolled in an accredited program, either full-time or part-time.
The recipient must be an undergraduate student only.A person may submit an application each year, but previous winners are not eligible for a second scholarship.
The scholarship fund will be in the form of a grant program with funds being paid to the college, university or technical school in Georgia.
The scholarship fund will provide $1,000 to each scholarship winner's educational expenses. The number of scholarships will depend on the fund earnings.
Scholarship use must commence within one year of date of issuance and be totally utilized within two years of the date of issuance. The school shall return any unused funds to the scholarship fund.
The scholarship may be used at any two-year or four-year accredited college or university in Georgia including technical schools.
A combination of need and academic ability will be used in determining scholarship fund winners.
Georgia Southern University will administer the scholarship fund.
Scholarship winners must notify Altamaha EMC of their acceptance of the award and the name of the school they plan to attend by June 1, 2017 or they will forfeit the scholarship.



For more information about the Walter Harrison Scholarship Program, contact Tammye Vaughn at:

Tammye Vaughn
Altamaha EMC
PO Box 346 - Lyons, GA 30436
(912) 526-2120
tammye.vaughn@altamahaemc.com